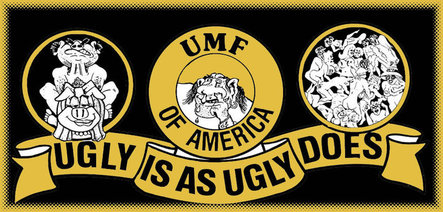 ABOUT US
The UMF of America is a "Men's Social Organization" founded in July, 1982 in San
Diego, Ca. Our founding father was "Moko Joe" (UMF #1), an escaped lunatic from
Hawaii. The express purpose of the organization was to take the vote away from
women and take back the identity of men from those political and social
organizations who endeavor to take away men's god given right of masculine and
profane behavior in an attempt to mold into something other than what they are:
Ugly Mother Fuckers. Having run into some heavy resistance from the US Congress
we fell in with some bad company and have been drunk and/or loaded ever
since.
The UMF of America is NOT a Motorcycle Club. The UMF is a
Social Club, and is not political in nature. Some members of the UMF are
interested in motorcycles, and some are not. In that UMF membership and the
founding charter are not focused on motorcycles, the UMF shall never be a
Motorcycle Club, as it would alienate a large portion of its members. Motorcycle
club "support" patches will not be displayed by UMF members on their vests,
jackets or vehicles. This is contrary to our neutral status.
The UMF membership is comprised of men from all walks of life with the same common
interests; Partying, Camaraderie, Partying with our comrades, Partying, Lewd
Women, Partying with Lewd Women, and just plain ole partying wherever a party
may be found or started.
"NOT JUST ANOTHER PRETTY FACE I AM AN UGLY MOTHER FUCKER"
"BEAUTY IS ONLY SKIN DEEP, UGLY GOES TO THE BONE"
"FRIENDS DON'T LET FRIENDS SAY NO TO DRUGS"
"WE'LL EAT NO SWINE BEFORE HER TIME"
"WE MAY NOT GO DOWN IN HISTORY, BUT WE WILL GO DOWN ON YOUR LITTLE SISTER"
"WE BELIEVE IN THE HONOR SYSTEM, "GET ON HER AND STAY ON HER"
"THERE ARE 3 THINGS I WON'T DO - YOUR MOTHER IS NOT ONE OF THEM"